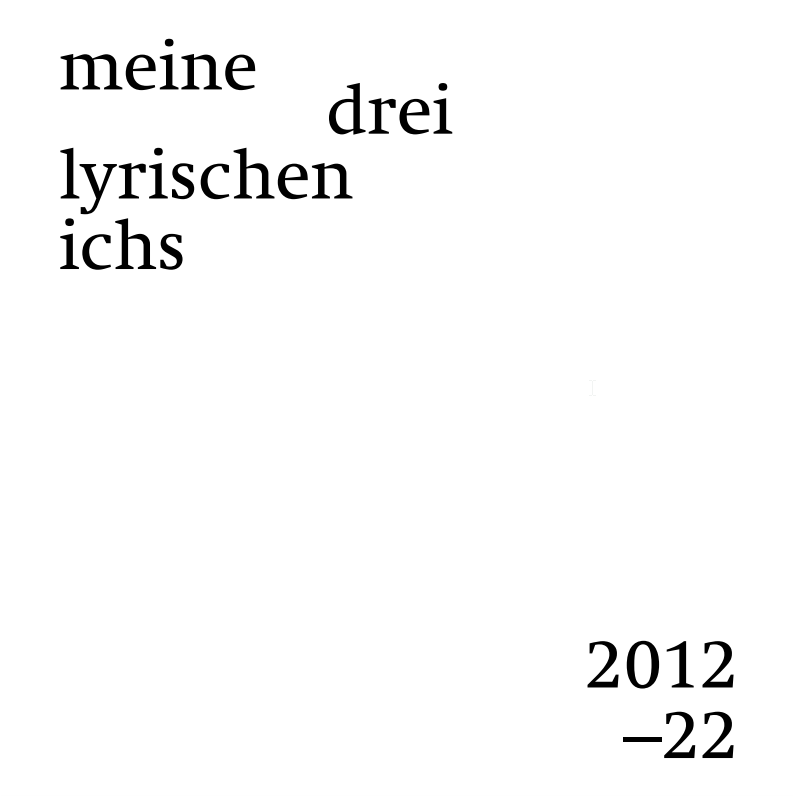 10 years my three lyrical me – the anniversary party
LYRIK: Max Czollek (Berlin), Ekaterina Derisheva (Kharkiv/Munich), Sirka Elspaß (Vienna), Tim Holland (Berlin), Dagmara Kraus (Hildesheim), Pega Mund (Munich), Slata Roschal (Munich), Caca Savic (Berlin), Theresa Seraphin (Munich), Xoşewîst (Leipzig)
ART: Mathias R. Zausinger (Munich)
my three lyrical me's celebrate their first round birthday and invite you to a big anniversary party. Ten poets will be guests, Mathias R. Zausinger will artistically perform in the event space, and there will be a special birthday present: a catalog documenting the last 10 years of the series, around 250 pages of poetry and art. It was designed by Judith Neunhäuserer, who also participated as an artist in 2017.
Six of the poets have already performed in the series in the last ten years, four are guests for the first time. Six come from outside, four live in Munich. Max Czollek read at the premiere of the lyrical ichs, in 2012. He has since published three volumes of poetry with Verlagshaus Berlin (most recently "Grenzwerte," 2019) and has become a prominent voice in political discourse through his essay collections "Desintegriert euch!" and "Gegenwartsbewältigung" (both Hanser). Dagmara Kraus presented her debut "kummerang" in the third edition in 2013 (kookbooks) and has since published numerous other poetry collections and translations. She is currently a junior professor of literary writing in Hildesheim.
Tim Holland arrived for his 2015 appearance with a specially created edition of a folding poster with poems. Now he has his second book of poems in his luggage, which will be published by Matthes & Seitz just in time for the anniversary. Sirka Elspaß performed poems at the lyrical ichs in 2017, some of which have now found their way into her first book of poems. "ich föhne mir meine wimpern" will be published by Suhrkamp this fall. Pega Mund is back on stage for the anniversary exactly five years after her first appearance with the series. Last year, her debut "reste von landschaft" was published by Black Ink. and her second volume is already in the works. Slata Roschal has published two more books since her 2019 reading at the Kunstverein: the poetry collection "Wir tauschen Ansichten und Ängste wie weiche warme Tiere aus" (hochroth Munich) and the novel "153 formen des nichtseins" (homunculus), which was most recently on the SWR bestseller list.
After several attempts and postponements due to corona, Caca Savic will be our guest just in time for the anniversary. Her debut book "Teilchenland" was published in 2019 by Verlagshaus Berlin. Xoşewîst is coming from Leipzig. He will perform five-language poems, also published in 2020 under the title "Leipzigيّاt" by hochroth München. The Ukrainian poet Ekaterina Derisheva has recently been living in Munich. She is a co-founder of the "KNTXT" project (festival, magazine, book series) in Kharkiv and her first volume tochka otscheta was published in 2018. Theresa Seraphin from Munich is known primarily as a theater lyricist and dramaturge, but has also been writing poetry on and off for some time. She now presents her more recent poems for the first time.
As a visual artist, Munich documentary filmmaker and video artist Mathias R. Zausinger accompanies the readers with a spatial installation that explores baroque visual worlds.
Free admission.
Curation and moderation: Daniel Bayerstorfer, Tristan Marquardt, Annalena Roters and Nora Zapf.
More info: https://meinedreilyrischenichs.wordpress.com/2022/07/05/10-jahre-meine-drei-lyrischen-ichs-das-jubilaumsfest/?fbclid=IwAR0M_wGd4_uGSWtpO6X-5f-Mw585bcsLckv_bSSbVmmG9uPiFzrdFW2Uyts