Hier noch ein Foto von der sehr netten Lesung am 30. Juni am Kulturhaus Häselburg Gera – Zentrum für neue Ideen und Perspektiven mit Nancy Hünger, Abdulaziz Ramadan – Xoşewîst und Ronya Othmann, die moderiert hat. Auftakt zum neuen Format "Literaturhaus Gera". Ende Juli lädt der Geraer Schriftsteller und Literaturwissenschaftler Jan Röhnert zu einer Wanderung durch Karstformationen um Gera ein und liest aus seinem neuen Buch "Vom gehen im Karst" (Matthes & Seitz Berlin, 2021).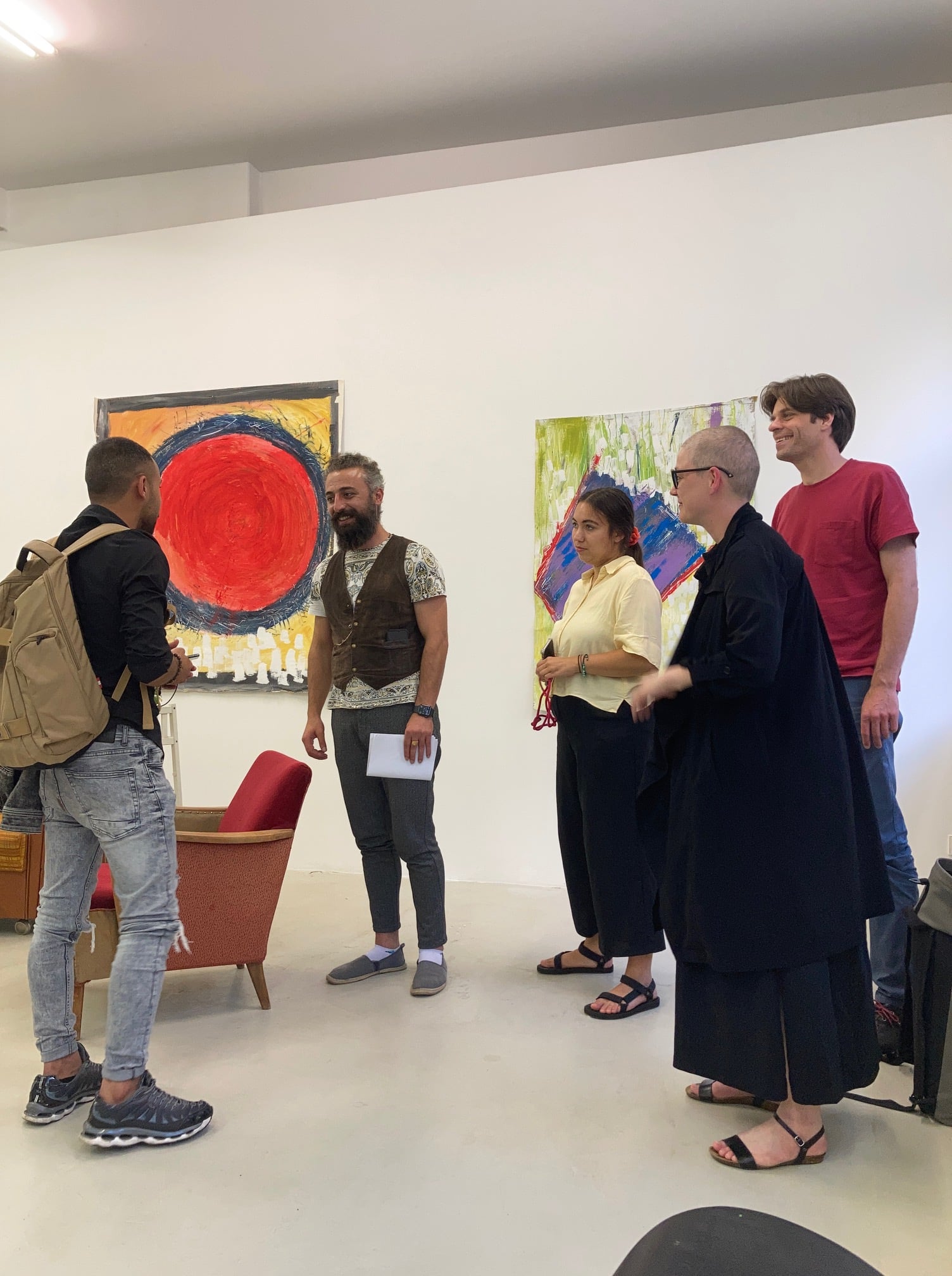 A message from A Syrian young refugee living in #Gera
Gera needs some more Pulls-Ups and Push-Ups
On 30.06.2021 I had a public poetry reading and discussion together with German poet Nancy Hünger and moderated by German Kurdish Author and Poet Ronya Othman. After the event, one Syrian young refugee from audience approched me and said in Arabic:
"Thank you very much for being here and for organizing this event. I am Syrian refugee living in Gera. We don't have anything in Gera such as cultural events or activities, nothing is going on here. I saw the advertisement of this event on facebook page of Kulturhaus Häselburg Gera – Zentrum für neue Ideen und Perspektiven and I was very happy to see that a Syrian writer is coming too to this event. I wish that we could have more events going on in Gera."
He finally asked me if I have any published work in Arabic language – I told him not yet but if so I ll share it with Kulturhaus Häselburg Gera.
Gera needs more actions, events, music, literature, cultural activities indeed that could build bridges among local communities living in Gera and also help youth find a way to discover and enhance their talents.
#Lesung #Diskussion #literatur #Xosewist #nancyhuenger #RonyaOthman
Abdulaziz Ramadan – Xoşewîst hat letzte Woche im Kulturhaus Häselburg Gera – Zentrum für neue Ideen und Perspektiven seinen neuen Text "Ich warte auf dich" gelesen. Es ist ein sehr persönliches Gedicht, fast schon ein Brief eines voller Sehnsucht auf einen geliebten Menschen Wartenden. Das Gedicht wandert zwischen den Welten, zwischen Leipzig, Abdulaziz Ramadan – Xoşewîst Wahlheimat, und dem Norden Syriens, wo er aufgewachsen ist. Die steinernen Engel auf dem Bundesverwaltungsgericht schauen wie stumm Mahnende auf die Ungerechtigkeit hier wir dort. Das ganze Gedicht, vom Autor selbst gelesen, gibt es auch als Video: https://www.youtube.com/watch?v=WacPHj1LpI4&feature=youtu.be